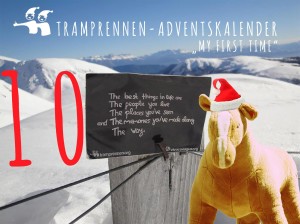 Ho,ho,ho- here we go! Christmas time is coming and before we hitchhike home for Christmas (haha…) we want to present you the first Advent calendar on tramprennen.org! Every day until Christmas (or even longer) we want to present one story about the first time we used the best way to travel: hitchhiking! Have fun with the stories! And you are more than welcome to add your own experience! Just send it to gro.nennerpmartnull@ofni! Whoop,Whoop!
#10: Max
Squeakily the steel door opens to give way through a high noise protection wall. We´re dragging ourselfs and our two backpacks over the threshold to find ourselfs instantly in a new scenery: Being occupied finding our way over footpaths, green fields and underwood just a few seconds ago and following our ears towards the noise of traffic, we´re now right in the middle of it: Concrete, trucks, the smell of gazoline, crowded vacation cars, international numberplates, coffee2go cups, cigarette breaks.
What a crazy Experience – never before have I stood on a rest stop without having arrived there by car and with certainty to vanish in exactly the same car after a short break.
But finally I am at this point, exactly today, at the southern boundery of Berlin. Two professional travellers with backpacks, which not even contain a tent or sleeping matresses, but diver eyeglasses plus snorchels and a book about taxonomy of reptiles in southeastern europe instead.
We neither have an idea about how to get away from here. In my head there is this one thought how stupid and hopeless our plan was, to get to germany´s southern end in bavaria today – to Berchtesgaden – 700km – by hitchhiking!
So here I stand, under my straw hat, with backpack and shorts. I look down to my feet, watch the rags where my shoes used to be just a few minutes ago. They didn´t even make the first 1,5km from the sub station to here. What a senseless enterprise…
My hitchhike buddy´s and my wondering eyes meet, we burst into laughter about ourselves. But we manage to calm down, pretend to be serious und watch the scenery at the gas station. And now, after the leftovers of my mocassins have been removed from my feet, beed disposed and replaced by my spare sandals I feel much more socially acceptable.
Hey, look! That number plate is Heilbronn – or Heilbrunn… Or something else from the south!
Ok, street map seized tightly and straight off towards the man grabbing the gas pump and standing next to his pensioners-red mercedes. "Hello Sir, good morning, uuhm we´re participating in this hitchhiking race across europe and want to got to the south, uuhm is that your direction?"
Arrival in Berchtesgadn after 10 hours, 6 car changes and one change of direction through a wastewater tunnel underneath the highway after a wrong turn on Highway A6. A lot is happening on a travel like this, but there are more people, who want to tell a story! Please stop for Christmas hitchhikers!
https://tramprennen.org/wp-content/uploads/2014/05/logo3.png
0
0
Disko
https://tramprennen.org/wp-content/uploads/2014/05/logo3.png
Disko
2016-12-10 09:34:31
2016-12-07 14:58:22
TR-Advent calendar #10