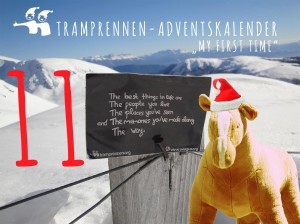 Ho,ho,ho- here we go! Christmas time is coming and before we hitchhike home for Christmas (haha…) we want to present you the first Advent calendar on tramprennen.org! Every day until Christmas (or even longer) we want to present one story about the first time we used the best way to travel: hitchhiking! Have fun with the stories! And you are more than welcome to add your own experience! Just send it to gro.nennerpmartnull@ofni! Whoop,Whoop!
#11: Jonas
I wanted to begin with hitchhiking in my younger ages. My parents hitchhiked in there teenage ages and I growed up with my mum picking up hitchhiker once in a while. This kind of traveling was fascinating for me already early. But I dared it never. The first two times I was drunk and had to come back from partys to my small home village. Once of it I wanted to beat a snow storm and walk home, that was a 18km distance, and after sometime I asked a truck driver, more in desperation, if he could give me a lift. He did it, for 1000m… After that he had to turn.
I started serious hitchhiking in Australia. A friend an I wanted to hike. But the national park was 60km away from all public transport. So we decided that we wanna add the hitch to the hike and believe it or not, it went perfect, even if there was parctically no traffic. One of the first lifts was a pickup and we had to sit in the back on the cargo area. On the way back to the next bigger city we hitchhiked the whole 200km and after that even further to the next national park. Since then I'm convinced of hitchhiking. But it took even 4 more years until I could participate my first Tramprennen.
https://tramprennen.org/wp-content/uploads/2014/05/logo3.png
0
0
Marco
https://tramprennen.org/wp-content/uploads/2014/05/logo3.png
Marco
2016-12-11 09:41:59
2016-12-07 14:49:55
TR-Advent calendar #11