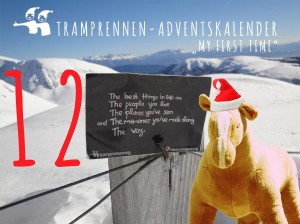 Ho,ho,ho- here we go! Christmas time is coming and before we hitchhike home for Christmas (haha…) we want to present you the first Advent calendar on tramprennen.org! Every day until Christmas (or even longer) we want to present one story about the first time we used the best way to travel: hitchhiking! Have fun with the stories! And you are more than welcome to add your own experience! Just send it to gro.nennerpmartnull@ofni! Whoop,Whoop!
#12: Maja
Hitchhiking has always been a distant idea for me – neither did my parents hitchhike ever in their lives nor did my friends from school or university. That's why for me this way of travelling was always out of sight.
Once I got stuck in the middle of nowhere in New Zealand. It was afternoon, no busses left for Auckland anymore that day – nontheless I had to get there by evening. I held my thumb out for a little while, super anxious, and soon put my hand back into my pocket. I was just too nervous. A few minutes later a lady stopped. She had passed before, had seen the thumb and turned around. She gave me a 2,5-h-ride and dropped me off just at the place I needed to go.
https://tramprennen.org/wp-content/uploads/2014/05/logo3.png
0
0
Disko
https://tramprennen.org/wp-content/uploads/2014/05/logo3.png
Disko
2016-12-12 14:00:53
2016-12-14 16:19:32
Tr-advent calendar #12