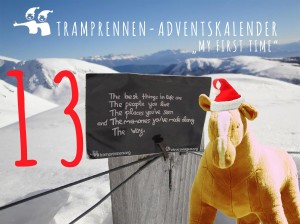 Ho,ho,ho- here we go! Christmas time is coming and before we hitchhike home for Christmas (haha…) we want to present you the first Advent calendar on tramprennen.org! Every day until Christmas (or even longer) we want to present one story about the first time we used the best way to travel: hitchhiking! Have fun with the stories! And you are more than welcome to add your own experience! Just send it to gro.nennerpmartnull@ofni! Whoop,Whoop!
# 13: Lisa
I like to think about the whole Tramprennen 2016 as my first hitchhiking experience. I had never used my thumb to get from A to B before but I was dying to finally try it. Last year I couldn't take part in the race because timing can be a bitch, as you know.
Before the start I was skeptical: During working as a volunteer for a local activist group I talked to many refugees which came to Germany almost the exact same route as I would be travelling for fun. I couldn't decide how to feel about the fact, that for me it would be so much easier, simply I own this particular type of small plastic card I carry around in my wallet all the time. And then there it was – my first ride ever. A guy in his fifties picked us up at a gas station at the town entrance of Innsbruck and promised to take us to a better spot somewhere near the motorway. In retrospect I wonder what made him stop for us or what he expected, since I was standing next to the street in my FC St. Pauli T-Shirt with the big skull printed on the front side… Because when we finished out chit-chat about how we were, from and where he was going, we were right in the middle of a political argument I was defenitely not prepared for this early.
While my hitchmate was in the back of the car, something in between being really hungover and just tired, I spend about an hour talking to the driver about differences between German und Austrian politics and the European asylum policy. Somewhere around the point when he got disappointed for me not knowing the exact numbers about how many seniors in Germany get fincancial support from the government – even though I told him that I'm studying political science! – our argument got so heated, that he forget to drop us of were he originally planned to and had to take us a bit further on the rural road. While I was getting really annoyed by his stubborness, he really seemed to enjoy our discussion.
One thing he said, I don't think I will forget for a long time: He said to me, that of course I must be so enthusiastic about the concept of open borders, because I am still so young and inexperienced, but that in twenty or thirty years I will change my mind. That I will be one of those people who will have a problem living next to someone from a different country. That I will be afraid and worry about my childrens future, because of all these refugees coming and bringing their different traditions. That stuck with me for quite a while and all I can say is, if that's the case then I know, I will have done something terribly wrong!
Luckily at this point my hitchmate found his way to take part in the conversation and the topic was quickly changed to football, before our lift dropped us of at the McDonald's at the next biggest town. For this first day and the rest of Tramprennen 2016 most of our lifts were kind and open-minded people and I am very grateful for all of them being part of my first hitchhiking experience.
But somehow I am also grateful to this first driver we met on the trip, because he made me realize the importance of spreading one of the messages Tramprennen supports: Closing of borders for people who need them to be open, while gaining an almost uncountable amount of priviliges to other people who are not even aware of them most of the time is not how things should work. And this message has to be shared as wildely as possible. Therefore, my dear racist driver from Innsbruck, look out for me – look out for all of us, sharing this opinion – I am more than willing bringing this topic up again  we should have the pleasure of meeting a second time.
https://tramprennen.org/wp-content/uploads/2014/05/logo3.png
0
0
Disko
https://tramprennen.org/wp-content/uploads/2014/05/logo3.png
Disko
2016-12-13 17:12:26
2016-12-14 16:19:18
Tr-advent calendar # 13