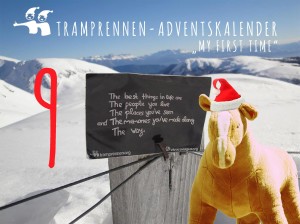 Ho,ho,ho- here we go! Christmas time is coming and before we hitchhike home for Christmas (haha…) we want to present you the first Advent calendar on tramprennen.org! Every day until Christmas (or even longer) we want to present one story about the first time we used the best way to travel: hitchhiking! Have fun with the stories! And you are more than welcome to add your own experience! Just send it to gro.nennerpmartnull@ofni! Whoop,Whoop!
#9: Hannes

My first time hitchhiking was together with my brother from our hometown Bad Segeberg to Kiel. He and later I studied and lived in Kiel but I don't remember why or with whom we went back then. I suppose that I enjoyed the trip because since then I used the thumb express for over 50.000km, mainly in Europe and also in Africa and North America. I was enlightened, an addiction just had started. Bad Segeberg – Kiel or the other way round is like a piece of cake. It always fits and I already had an innumerable amount of it. I know for this blog it's kind of important what my first experience was like but to me it's not. To me it's important that I kept on holding up my thumb since then.
Hitchhiking has become a fundamental part of my lifestyle and mentality. It has roused my passion for freedom and it constantly confirms my trust in humanity. This trust is particularly important to me in order to take it up with today's society. It makes me know that I can be wherever I want and that the journey to each place will be magical, every time. I don't need to know before, how I get somewhere, where I sleep there or who I get to know. What I know is that it will happen. The sensation when I find out how this plays out, is what makes me feel alive.
https://tramprennen.org/wp-content/uploads/2014/05/logo3.png
0
0
Disko
https://tramprennen.org/wp-content/uploads/2014/05/logo3.png
Disko
2016-12-09 09:33:18
2016-12-08 17:48:40
TR-Advent calendar #9