Tramprennen – Advent Calendar #5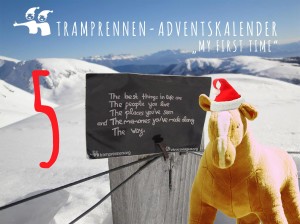 Ho,ho,ho- here we go! Christmas time is coming and before we hitchhike home for Christmas (haha…) we want to present you the first Advent calendar on tramprennen.org! Every day until Christmas (or even longer) we want to present one story about the first time we used the best way to travel: hitchhiking! Have fun with the stories! And you are more than welcome to add your own experience! Just send it to gro.nennerpmartnull@ofni! Whoop,Whoop!
#5: Karate Bilo
One of those stories…
This is one of those stories that starts with: I just went to buy some beers. So, I was in Christchurch and went to the bottle shop to get some beers. In New Zealand, if you want to buy any alcohol and you look under the age of 26(I was 23), you need to show your I.D.
I bought a crate of Flames, cheapest, strongest beer you get at the Mill, drove back to our house and put the box and my passport on the table in the backyard. My flatmates were cooking, so we went inside and had lunch. While we were eating inside some cheeky fucker sneaked into the garden and stole my wallet and my passport.
Well, fuck me! After some time looking for it and being pissed off, I had realised, I had to go the embassy, which is in Wellington, about 600km north to get a new one.
I had a car and enough money, but I was too stingy too pay for the trip as well. One of my flatmates told me that it was easy to hitchhike in NZ. So I decided to hitchhike to Wellington. I drove with my car out of Christchurch, about half an hour, to a village on the highway towards north. Parked the car, grabbed my backpack and my cardboard and basically just started hitching, standing next to my car. The first cars passed by and I really felt like an idiot. It took about 40 min. and a nice oldtimer (picture) stopped and gave me a lift.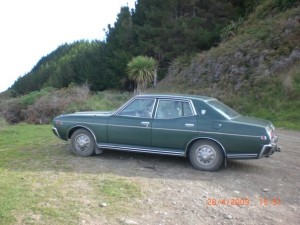 They were two brothers driving to a family meeting or something. Half the way, we stopped at a cute beach and had a picnic and short walk.
Now I guess, people would write about the "Rauschen" of the sea, and that the sun was shining and I felt so alive and free…well, not me.
Maybe part II of the story zu Nikolaus.
Cheers!
https://tramprennen.org/wp-content/uploads/2014/05/logo3.png
0
0
Disko
https://tramprennen.org/wp-content/uploads/2014/05/logo3.png
Disko
2016-12-05 01:05:03
2016-12-05 10:58:34
Tramprennen – Advent Calendar #5