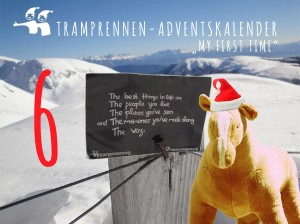 Ho,ho,ho- here we go! Christmas time is coming and before we hitchhike home for Christmas (haha…) we want to present you the first Advent calendar on tramprennen.org! Every day until Christmas (or even longer) we want to present one story about the first time we used the best way to travel: hitchhiking! Have fun with the stories! And you are more than welcome to add your own experience! Just send it to gro.nennerpmart@ofni! Whoop,Whoop!
#6: Max
"A hitchhiking-Race? My acquaintance from Hamburg have been participating in this already for several years? I can support this by donation? So all for a kind of charity? For Viva con Agua and ProAsyl? I've never heard of that before." Me, summer 2015.
Did I think about me also participating in that race to Bulgaria one year later? Not really! Until I met this friend again in Hamburg in December and got to see all the photos she made of last year's race to Albania. I saw dusty roads and heavy backpacks. But, mainly I saw lovely, happy people, who spread happiness all around. And I thought: Tramprennen 2016 – I'm with you!
My first real hitchhiking experience was a 2 days trip for the Easter Competition. And although we needed public transportation for the last few kilometers my hitchhiking fire has been burning since then. For the race in summer 2016 I used Tramprennen's nice little feature called 'Hitchmate x-change'for looking for a hitchmate that preferably lives in a city nearby, because I wanted to meet her before starting a race lasting 2 weeks. It worked out, and we were ready to rock.
Finally, on a sunny day I got started not even waiting 3 minutes for the first lift. After picking up my team mate in Dresden we tried to get to Halle (Saale). After waiting for half an hour a pretty chatty British guy, who regularly commutes between Poland and Great Britain, gave us a lift to our destination of the day. In Halle we were heading directly to so called "Hasi" where the premeeting of the race took place. We met already friends and future friends, who also would be on our route. Well, in the end we all got friends.
After not sleeping much and unfortunately losing my hat, we finally got started to our first stage. The destination was a smaller town few kilometers behind Prague. "Should be possible!" I thought. Leaving Halle wasn't a problem. Our first ride was a free spirit, hitchhiker on his own, even more hippie than we were. He was on his way to Leipzig driving his parents' car and dropped us at a bigger shopping center, where it shouldn't be a problem to go on. We talked a lot and he was even interested in participating in the next year. Yeah! When we arrived we saw another team so we decided to have breakfast. The other team got a ride after a few minutes and so we started with high motivation until the police stopped in front of us…Police officer: "Motorway, please move some meters down the road" We:"There is no space to stand and it's not dangerous in the place we are now." Police: "500 meters away there is a good place for you to stay!" We: "But all roads join after this place"… He answered with gazing at us so we resignated… We walked to the spot he instructed us, where we were waiting for two hours until we got finally picked up. After a short ride we arrived at the petrol station "Dresdner Tor Süd", which is the last stop before the exit to the motorway to Prague – slightly dispirited cause we were together with 1, 2, 3 and yes 4 other teams heading to the same direction. However, few minutes later one team caught a lift and so all of us were motivated again. We decided to split up: one team asked at the petrol station, one at the food-store and we tried our luck at the exit of this petrol station for the next 7 hours….
For fighting boredom, we began to count cars until we will give up for this day: "After the next 10 cars we will start looking for a place sleep." One, Two, Three, Four…and what? Did this car really stop for us? A few minutes later we got our final ride for the day. Two Bulgarian guys with a car transport on their way to Brno. Thats our direction! Directly to our stage destination – Nice! We arrived at 12 p.m. and met the other teams. Emptied of energy but really happy we ended up. So always remember: "The next ride will always come!"
https://tramprennen.org/wp-content/uploads/2014/05/logo3.png
0
0
Disko
https://tramprennen.org/wp-content/uploads/2014/05/logo3.png
Disko
2016-12-06 11:05:54
2016-12-08 18:57:36
TR-Advent calender #6