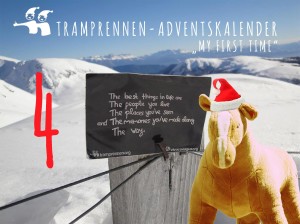 Ho,ho,ho- here we go! Christmas time is coming and before we hitchhike home for Christmas (haha…) we want to present you the first Advent calendar on tramprennen.org! Every day until Christmas (or even longer) we want to present one story about the first time we used the best way to travel: hitchhiking! Have fun with the stories! And you are more than welcome to add your own experience! Just send it to gro.nennerpmartnull@ofni! Whoop,Whoop
#4: Sven: my first trip
After going to Berlin and moving into my new flat, with flatmates who were totally into hitchhiking I wanted to make my first trip on my own.
Many months passed, and I moved to Stuttgart for an internship where I learned about the hitchhiking race for Viva con Agua and the one of "abgefahren e.v.". I wanted to participate, but I had to find someone to join me for this trip.
Finally, I've met a girl who was also into this kind of traveling, and I told her about the race to Romania – and she loved it, but was not sure if we can get along for two weeks and if hitchhiking is real as she imagined. So we decided to join the race of "abgefahren e.v."
The days before the start we did a lot of preparation – getting a map, packing the backpacks and planning the trip to Augsburg – the start.
Our trip started very bumpy – we decided to thumb out of Stuttgart close to a ramp, but it began to rain very strongly, and no car stopped. After a while, we decided to leave this spot and go to a service station close to the city.
About 1 hour later we arrived at the station and luckily the rain stopped, and we didn't get soaked while walking. We started asking, and the first person we asked took us all the way to Augsburg. He was driving to Munich with his father's car and took even a small detour to bring us into the city. So even with the bumpy start the first day of my hitchhiking adventures – it was a good start.
All in all, it was a quiet ride, and he didn't talk so much. He dropped us in the city center, and we met our Couchsurfing host and the other hitchhikers for a pre-party.
The next day we met at the marketplace in the center where the organizers presented the rules and the destination – Bled in Slovenia. After the starting signal, my partner and we ran to the next tramway and we went met Stephan and his hitch mate in the tramway. They also took the same route like us towards a gas station on the motorway. While we were walking and chatting, he suddenly saw a car waiting at a traffic light and asked the driver if she could bring them to the gas station which she did and we were alone again on the way to our first destination.
Half an hour later we reached the station and saw how Stephan just got a ride and left, and we started asking the drivers. It took ages until we were finally on the road with the staff manager of a big company. We had the chance to talk a lot about the unconditional basic income and at some point his wife called, and he told her that he has visitors. She greeted us, and the drive continues.
He dropped us at the Austrian Border where we nearly instantly got the next car. A driver who will bring us all the way to the last service station close to Villach – my personal nemesis. He was a businessman visiting his wife in Italy, and he told us a lot about driving in Austria, and he was extremely proud of his car, but besides of this no fascinating stories.
When we arrived in Villach, we already saw a lot of the hitchhikers of our group and thought that we might get a lift after a while – but this was a total misconception. While running from car to car and asking, more and more people arrived and the station got super crowded of hitchhikers – some went down to the motorway and tried to get a lift, others asked the right cars and got a lift.
At some point, one of the stranded hitchhikers started to give up and tried to find a place to sleep – when he returned he found a fantastic spot to sleep, and it began to get dark, so we went down there and set up a camp, bought some beer and started cooking some meal. It was an extraordinary place to camp, and it didn't look at all like an emergency camping.
The next morning we started with coffee and some of our group decided to go down and try to hitchhike on the street there, and we went back up. Because of the stress from yesterday the owner of the station was quite pissed, so we were not allowed to ask in front of the station and had to give it a shot at the parking lot.
A couple of hours later we gave finally up and got a taxi to a parking 20 km further.  This one was unfortunately deserted and for ages no car arrived. At some point we even were so desperate that we wanted to cross the Alps on foot – we already checked the maps and prepared water when the first one got a lift – which gave us hope, and we tried it again. 30 minutes later we managed to get a lift to the exit where the camping lot was, and we finally could continue our trip. While driving towards the tunnel, we realized how stupid the idea of climbing this mountain range was.
After leaving the car, we decided to walk a bit but made a sign with the camping ground. After 10 minutes a car stopped and picked us up and finally brought us to the stop where we met the rest of the race except those who got also stranded. We made it at least first from the second-day groups. After pitching my tent and getting some beer, I started talking with the other folks and everyone's stories made me full of anticipation of making more trips.
Despite these unlucky beginning of my hitchhiking "career",  I continued and had dozens of trips to several countries which makes me very happy. I've made friends on my trips and had great times.
https://tramprennen.org/wp-content/uploads/2014/05/logo3.png
0
0
Disko
https://tramprennen.org/wp-content/uploads/2014/05/logo3.png
Disko
2016-12-04 12:50:26
2016-12-05 01:09:01
TR-advent calendar #4