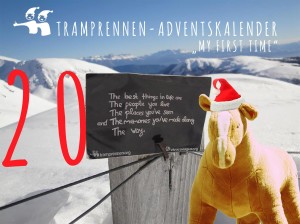 #20: Audrey
The first time I hitchhiked it was in summer 2011. I was a French exchange Student in Kiel at that time. Through couchsurfing I had met some nice german hippies who were involved in the NGO Viva con Agua. They were talking all the time about Tramprennen. I had no idea what it was about, and it's only when they showed me videos of them of the road that I understood they were some kind of pround hitchhikers. It was the first time I heard that people enjoyed hitchhiking for the sake of it and not only out of necessity. And I found the idea as disturbing than exciting.
We were in Prague CZ wanting to head back to Kiel for the Kieler Woche festival. My friend Camille and I got dropped off at a petrol station outside the city of Prague. It was early morning, we had no idea of what we were doing but felt fairly confident we could get to Kiel before dark.
As we were two girls with no map and just one phone between the 2, we thought of some rules to keep safe. One of them was to stick together whatever happens or tell the other if we felt incomfortable.
After a few minutes holding our sign, a massive truck stopped. The driver, an older guy said in german: "HEY GIRLS we are going to Germany, you can come with us. One chick comes with me and the other goes with the truck following me" We looked behind his massive truck and another guy was up in another massive truck waiving at us. I responded "THANK YOU BUT we can't, we want to stay together!"
Too late: Camille was already running to the truck with her backpack, happy we got a lift so quickly. Once in the truck the driver told me how much he loved french girls, since he had an affair with a woman called Nathalie. After that akward moment, I remember liking the feeling of being up high on the road looking down at cars. I liked also being invited into the truck driver as if it was his house, he was offering me coffee biscuits and cigarettes, while driving. We talked about his family in Poland, listened to polish old school pop music. I was looking at the back mirror all the time, afraid that Camille's truck would disappear. The 2 trucks started a race on the highway trying to pass eachother. Not thinking of the speed limit, it was good to see Camilles smiling face everytime they passed us.
A few hours later we stopped and they shared their meal with us. Camille's driver was very friendly but also had posters of naked women all over his cabine. She was in control she said. They dropped us 6 hours later in Leipzig and we continued our way to Kiel, without to wait more that 5 minutes. We even got disturbed during our break by a family at a station asking us where we wanted to go! We ended the day asking some guys to drive 200 kilometers out of their way to drop us off in Kiel. They partied with us all of the following night.
It was the first day of a very long love story with hitchhiking. Everyting can happen on the road, especially great experiences and random hilarious encounters. I can not imagine how the last 5 years would have been without hitchhiking. I gained confidence, freedom, trust in humanity and trust in my survival skills. I learned how to be patient, accept failures and wrong decisions, listen to my buddy and to not be greedy.
Last but not least I discovered also how privileged I was to cross borders freely and be welcome everywhere. During Tramprennen 2015 on the way to Albania, we met countless groups of people walking along the train tracks and hitching toward to North, while the friendly drivers of our air conditionned car were making disgusting racist comments.
The world is up to you when you are hitchhiking, only if you are a white european/westerner.
Well, to be honest I am not that white but it's a fact that foreign people were much more welcoming with me than they had been with my dad a generation ago or than they are now with the people coming to Europe fleeing conflict they haven't started.
So now, the question is: do you want to keep your privileges for watching TV? Or do you want to go learn about your limits and the world? There is nothing to feel guilty or worried about, just go and hit that road!
https://tramprennen.org/wp-content/uploads/2014/05/logo3.png
0
0
Marco
https://tramprennen.org/wp-content/uploads/2014/05/logo3.png
Marco
2016-12-20 11:30:00
2016-12-20 11:33:15
TR- Advent calendar # 20