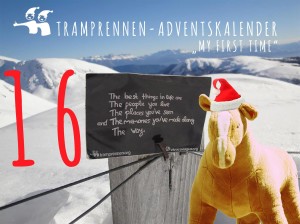 Ho,ho,ho- here we go! Christmas time is coming and before we hitchhike home for Christmas (haha…) we want to present you the first Advent calendar on tramprennen.org! Every day until Christmas (or even longer) we want to present one story about the first time we used the best way to travel: hitchhiking! Have fun with the stories! And you are more than welcome to add your own experience! Just send it to gro.nennerpmartnull@ofni! Whoop,Whoop!
#15: Felix

It was last summer when a friend of mine started a little spark inside my head. Hitchhiking? To Albania? Crazy! My first thoughts. But a year later the spark set fire and I was convinced to do this crazy shit. So my first hitchhiking experience started in Hamburg. Jonas, who started the spark a year ago, and I wanted to catch up with the tramprennen-people, that were already on their way for a week. So we made a plan. Two and a half days from Hamburg to Sofia. Hard but interesting. Since Jonas is pretty experienced in hitchhiking I kind of leaned back and trusted him on the assumption we would make it.
So we started, since we were lazy, at the Horner Kreisel in Hamburg. Wait but that's the direction to Berlin. Doesn't matter. After 40 minutes we got picked up with to other girls who partied all night in Hamburg and wanted to go back to Berlin. My first lift. Amazing.
After 2,5 hours we reached the service station and continued our trip south from there. We hitched everything. Old people in a full car, young girl in an old car, undecided woman in an empty car and really young girls in a fast car. Big thanks again to all the drivers that may read this. Our goal for the first day was at least Salzburg but maybe even Vienna. Well at around 8:30 pm we arrived in Rosenheim on a really shitty gas station. The cars could enter the gas station from both directions and were mostly families with completely packed cars. So far we did really good but now it seemed like our luck left us. It was getting dark and no car seemed to drive to Austria.
So we relaxed put our backpacks aside and had a small snack. Suddenly a young man with an Austrian license plate stopped at the gas station. After a short chat, he agreed to take us into Austria. He introduced himself as Peter and seemed to be a pretty cool dude. He is a professional musician who just came back from a concert tour in France. We talked about sailing and the Traunsee, because actually he owned boat, which anchored on the Traunsee and since Jonas has been there 2 years before with Tramprennen, there was a lot to talk about. Our plan was to find another lift at the designated service station close to the Chiemsee but suddenly Peter invited us for a beer at the Traunsee and offered to spend the night at his place. Of course we were happy and agreed instantly. Said, done. Late at night we found a bar with direct view on the lake and enjoyed incredible awesome Austrian beer. And on top of that we even spend the night in a real bed, which was the best after a long day of hitchhiking. The next morning after a quick shower, Peter drove us back on the highway almost to Linz and we continued our trip from there. But that's another story.
For my first hitchhiking day it was the perfect experience. Big thanks to Peter and all the other drivers that let us join on their journey that day!
https://tramprennen.org/wp-content/uploads/2014/05/logo3.png
0
0
Marco
https://tramprennen.org/wp-content/uploads/2014/05/logo3.png
Marco
2016-12-16 12:00:38
2016-12-16 12:00:38
TR-advent calendar #16