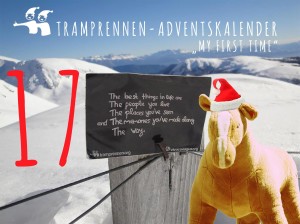 Ho,ho,ho- here we go! Christmas time is coming and before we hitchhike home for Christmas (haha…) we want to present you the first Advent calendar on tramprennen.org! Every day until Christmas (or even longer) we want to present one story about the first time we used the best way to travel: hitchhiking! Have fun with the stories! And you are more than welcome to add your own experience! Just send it to gro.nennerpmartnull@ofni! Whoop,Whoop!
#15: Benni

It was during my last year of school. A friend and I wanted to escape the crowds of Karneval in our hometown Koblenz, so we decided to make a small trip through Germany. First we thought about tanking a car but then I read an article about free traveling and how you can spend your holidays without money in Berlin.
One of the tips in this article was hitchhiking. I somehow got curios about this idea and informed myself further and in the end I really wanted to try the best way of traveling.
The parents of my friend helped us with the start and brought us to a petrol station on the highway, where they left us alone. It was a strange feeling, knowing that you are depending on some strangers goodwill to get you out of this place to your aim. None of us ever did it before in this way, so we started to write a sign with "Berlin". I also read in the article that it is much more successful if you ask the drivers. Okay, that sounds not to hard but in the beginning especially on the first time it was quite an overcoming to talk to a stranger and then even to ask for a favor. After the first fifteen minutes and my first rejections I felt a bit uncomfortable and thought that this might have not been the best idea.
Luckily a man came to us and said that he could take us to the next petrol station, but he has to talk to his family first because his daughter was sitting on the back bank. They agreed and we got our first lift! All the worries directly changed into pure happiness. On the next petrol station, where the wanted to drop us the two parents talked to each other and offered us that they will take us to Berlin. That made things pretty easy for us and we agreed directly. On the way we had some nice conversations and we stopped at the former border to the DDR to visit the custom station.
Thanks once again Peter for your help!
https://tramprennen.org/wp-content/uploads/2014/05/logo3.png
0
0
Marco
https://tramprennen.org/wp-content/uploads/2014/05/logo3.png
Marco
2016-12-17 13:57:06
2016-12-17 13:57:06
TR-advent calendar #17