"We just opened a lot of conversations"
The Team  "Solidarische Trampwirtschaft"  has already collected near to 500€ donations for Viva Con Agua and Pro Asyl. Thats why we made a small interview with Matze, one of the team members.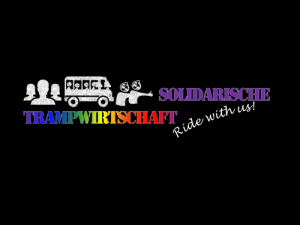 Hey Matze! Did you expect that collecting donations is going so well?
Matze: Nope, we didn´t see that coming. With 150 Euros as targeted value we did not really expect that at all. But we are very happy about the development.

How did you approach potential sponsors?

Matze: We just opened a lot of conversations directly with friends and family. In addition, we alerted people via social media networks and via e-mail.

Who are your sponsors? Are they mostly friends, family or total strangers?

Matze: Complete strangers are rare. Most doners are out of our immediate environment. But we also noted a donation of a Viva con Agua supporter from Madagascar!

Can you give other teams a few tricks or hints how to raise donations and reach out to potential team sponsors?

Matze: Talk to people.. the more time spent on explaining the backround of tramprennen, the more likely are potential doners to support you. Personally, I simply ask for a small support of 1 or 2 Euros. A lot of small donations are a sign of widspread understanding of our undertaking and therefore for me more preferable than a few large donations.

Did you do something special to attract more sponsors?

Matze: From a certain donation value we offer to send our team stickers and postcards from the road. We´ve just begun with that and hope to lift interest and inscentives to follow tramprennen and of course to say "thank you!". We´ll see how that goes.
https://tramprennen.org/wp-content/uploads/2014/05/logo3.png
0
0
Marco
https://tramprennen.org/wp-content/uploads/2014/05/logo3.png
Marco
2016-08-03 14:15:32
2016-08-04 15:32:22
"We just opened a lot of conversations"