Time to wake up… we're back!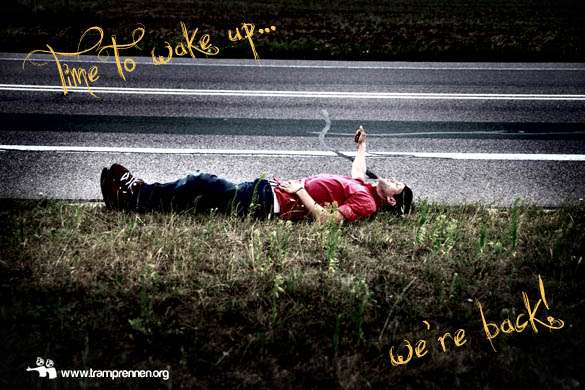 After three years of Tramprennen for Viva con Agua and clean water, we had to decide, whether to keep the project running in 2011, skip it for a year, or let it be history for good. Though the Tramprennen 2010 was an amazing success on multiple levels once again, this question had to be answered. Foremost, because of the overwhelming organizational efforts we faced in the months before the race in August 2010. Our crew then consisted of 6 hitchhiking lovers and a bunch of additional supporters, all working on different aspects. Registration, sponsoring, fundraising, website programming and design, press relations, the movie and wheelchair project demanded many hours of work, that had to be dealt with aside of our studies, our work and other projects we were involved in for Viva con Agua. Sleepless nights, stressful days and many a (in retrospect often superfluous) time-intense discussion lead us to the question, whether such a huge project could be set up yet again.
Is it all worth it?
to attract attention to the most important good on planet earth – Water?
to meet a bunch of crazy and outstanding people ready to hit the road two weeks for just that cause?
to raise funding for a drinkwater project, with the help of many many more people?
to share cars with totally unknown people you meet for a short while only and by chance catching the most interesting story in your life?
Oooooh Yeah, it is!!!
That's why – despite of our initial doubts – we'll do it all again in 2011. A few of weeks ago the core team met in Berlin to reflect on the last year and to plan the framework of the next race. Many topics came up and here are the results:
the website became more interactive – for instance, check the new forums and sign up! A new platform for hitchhiking related topics & teampartner hook-ups
registration and team profiles will be automated (yay, less work!) and more dynamic, meaning you'll be able to change your picture and profile by yourself, whenever you want to
we will support Viva con Agua again and raise donations for another drinkwater project!
we switched to english as main language and will, most likely, implement multilinguality (English & German) in the near future
2011's destination will be announced soon, too many ideas popped up in order to have it fixed already (still time to give input – if you care, do it now)!
we'll keep the route/group size limited to max. 12 teams or 25 people, that proved a vital for a cozy atmosphere
we'll aim at 5 routes (3 in 2010)
there will most likely be two cities to start from – the final meeting point will without a doubt remain one for all
the timeframe will be somewhere around the middle of august to the middle of september, 2 weeks in total
some new special power extra rules will be added, which we don't wanna announce yet! ;)
no more "Routenlutscher" (route head), more responsibility to the whole hitchhing group
we wanna start some great and fun projects around the race and hitchhiking in general, hence the new Arts & Culture-section
the Tramprennen project is not just meant for us and meant to be organized by a closed group, it's open to everybody!! Create it your project!!
# In case you love photography, filming, acting – make it your project – get in touch with us!
# In case you love programming, graphic or print design – get in touch with us!
# in case you love writing or making music – get in touch with us!
# you wanna create a link between a university or student project to the Tramprennen? – get in touch with us!
# no boundaries for creativity – at all!! :)
We want YOU!
Right now we're working on the first steps for another great race along with everything surrounding it! Follow the blog for news updates and contact us, if you feel like participating, want to help the project and make it succesful! :)
Your tramprennen-Crew!
https://tramprennen.org/wp-content/uploads/2014/05/logo3.png
0
0
News
https://tramprennen.org/wp-content/uploads/2014/05/logo3.png
News
2011-01-29 09:43:38
2011-02-13 18:58:13
Time to wake up… we're back!