News for hitchhikers: Spread the word!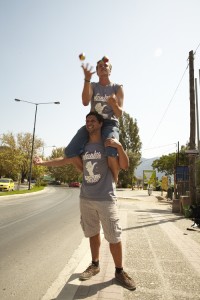 Heya fellow hitchhikers!
Crazy shit – just one more month and we're finally on the road again! So far 38 teams registered, many already completed their registration, some are still in the process of doing so. We know – homework sucks, but sometimes it's necessary and we hope to get everything managed smoothly :). Here are a few hints for the upcoming weeks until the race begins!
1. Spread the word!
Spread the word about Tramprennen among your friends, share it on your facebook walls and link to the website :). The goal is to hitch to Romania with 6 routes, fully equipped with up to 10 teams! Without your help this goal is impossible to reach! :)
Share your team profile, pimp it with a nice description and a nice team picture ! :)
2. Registration process
Some of you haven't finished all of their homework yet. Have a look at your Team Dashboard about the stuff that still needs to be done: Go to Team Dashboard
If you have any question or problems, don't hesitate and drop us a line, we're going to help out: Contact Malte (gro.nennerpmartnull@etlam) or Marco (gro.nennerpmartnull@ocram)
3. Donation Counter
There are already 23 Cent/km in the Donation Counter (almost 400 Euro!)! 360 Euro for the WASH-project in India! Awesome!! Since last week the sponsoring tool is working and you can go and hunt for sponsors! The collected data of your friends, family or employer is transferred securely via a 256-bit SSL encrypted connection, so don't worry, everything is safe :)! Check out the different sponsoring options here: Sponsoring Options
Let us altogether skyrocket the donation counter and support Viva con Agua and their clean drinking water project in Jihar and Jharkhand! :)
4. Next steps
Within the next weeks we'll send more newsletters with specific route information like Pre-Meetings and sleeping possibilities in the starting cities. We're going to publish our plans for the Tramprennen 2012 magazine and some more nice stuff (contact your local newspapers and radio channels, etc) :)
Cheeeers and looking forward to meet everyone on the road in a couple of weeks!!! :)
Cheeeers!!
Tramprennen Crew 2012!
Tue, Hanjo, Fabian, Walter, Marco, Ole, Pille, Luke and Malte
https://tramprennen.org/wp-content/uploads/2014/05/logo3.png
0
0
Malte
https://tramprennen.org/wp-content/uploads/2014/05/logo3.png
Malte
2012-07-19 00:25:22
2012-07-19 18:08:18
News for hitchhikers: Spread the word!