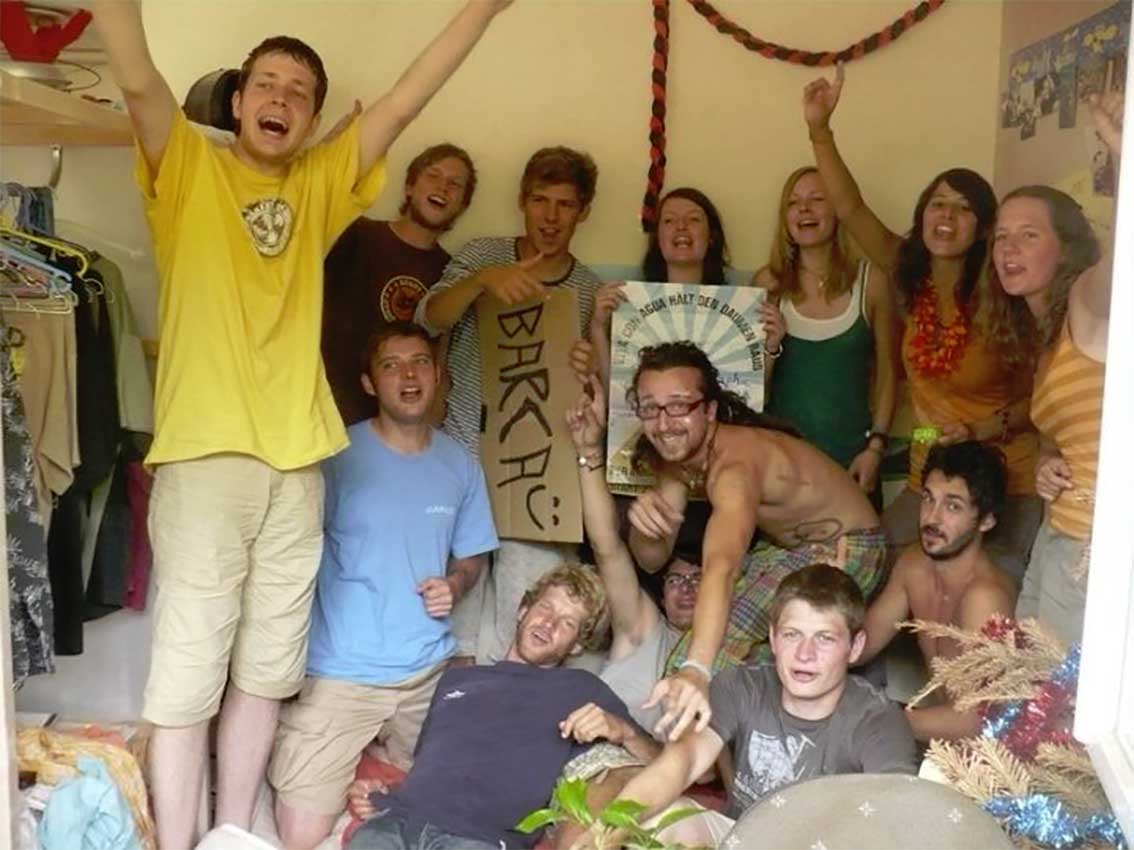 2008, Kid Rock's "All Summer Long" was 8 weeks on the top of the german single-charts and Barrack Obama is becoming in the middle of the big economic crisis president of the United States of America. And between all this madness about one dozen hippies hitchhiked from Hamburg to Saragossa. Of course they made a competition. And boom, the Tramprennen was born.
2017, the 10th edition of this amazing event will take place. It's time to ask the first crazy participants how and why all this works. Today team K.O. will give us answers to questions we always wanted to ask.
Hey Team K.O.
Tell us something about you. Who are you? What's your favorite vegetable?
Ja moin, I'm Ole. At the first Tramprennen I was 22 years old. I liked and still like carrots but I'm wearing glasses anyway.
What was the craziest thing that happened to you during the first tramprennen?
Uhm well, most of the time we were standing in villages and it took forever to get a lift. So we spend hours driving back and forth between two spots that locals recommended to us. We were really unexperienced hitchhikers and very trusting. In Siegburg, somewhere around Bonn, we drove back and forth three times. On-ramp to the trainstation back to the on-ramp to the supermarket-parkingspace and on-ramp again. The procedure was always the same. Presenting your thumb for half an hour to the dashing cars. Then "Damn it, this is not a good spot either!". And so on. After several hours in Siegburg Kai just said: "Ole, let's take a taxi!" We drove to the next service-station and after 5 minutes we were heading with 200 km/h to the finish line. Felt good.
What was different in 2008 and is everything better today?
First of all it was just new. Of course. Like it is today for everyone, that hitchhikes for the first time. For the first time you were sitting in some businessman's car right next to the driver, you spend the night for the first time at a host you just met. It was also the first night we spend a night next to a toll-station somewhere in the middle of nowhere in Italy and it was premiere of suddenly getting a lift even though you already planned on spending the night on the side of the highway.
There was nothing like google maps on the smartphone in 2008. When you got stuck and the small village was not in your map, that had a scale of 1:30 million and was more and more tattered with every kilometer, then you were somewhere in terra incognita. You printed the Hitchwiki articles before you started and you hoped that your lift did not drop you off at some place that you had no information about. There was no liveticker and since roaming was so incredibly expensive you turned your cellphone off most of the time anyway. Some would say: amazing time. But you have to admit for hitchhiking, especially when you want to arrive in a given time, smartphones have great advantages.
Are you still hitchhiking? Why (Why not)?
Every now and then. I just spend a week in spring hitchhiking through France. That was really cool and the spirit of this way of travel is just amazing. Meeting new people, of which you probably hadn't taken any notice before. It's a slow but conscious way of travelling. But to be honest,  in the daily life I'm not hitchhiking as often as before. I prefer to jump on a train and arrive at a set time and not trying to keep a cardboard-sign dry for hours. And of course I rather spend the nights in a bed than somewhere next to the Autobahn.
What are your mothers saying?
In 2008 I told my mother: "I'm going hitchhiking to spain now." Knowing, that she couldn't change anything, she replied: "Ok, but come back safely." I did. Today, I believe, there is nothing, that would shock her.
This year we are heading to the baltics. Will you join us?
No, unfortunately not but maybe next year. Or maybe I will come to the final destination for a few days. We will see.
What would be your favourite destination for a Tramprennen?
Gibraltar? Istanbul? China? Maybe too exotic but that would be nice.
Do you have some expert-advice for newbies?
Just try and do it! There is basically not a lot that can go wrong. And even if, normally you learn from your mistakes.
https://tramprennen.org/wp-content/uploads/2014/05/logo3.png
0
0
Felix
https://tramprennen.org/wp-content/uploads/2014/05/logo3.png
Felix
2017-08-11 20:26:38
2017-08-11 20:26:38
Interview K.O.