Tramprennen 2013 – final words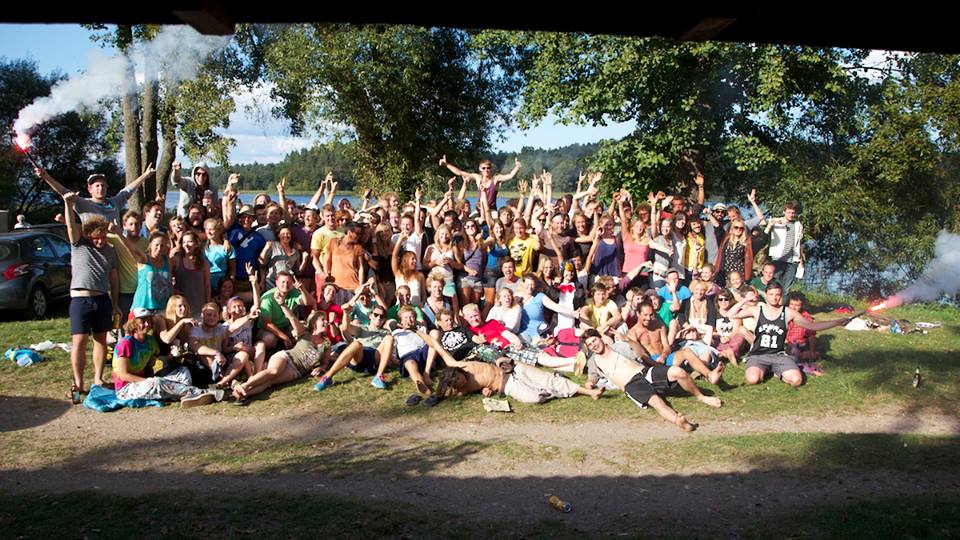 "There's a load of craziness out there, but this is definitely the center." – the owner of the campground in Zgon, the small Masurian village, is still standing on the edge of his parking lot in disbelief, scratching his head with a smile across his face.
He did not count on 130 hitchhikers today.
And how should he? No one prepared him for it: The road in front of his campground is the official end of a 2-week journey through Europe. Since around noon vehicles are regularly stopping here: Cars, vans, transporters, sometimes even 40-foot timber trucks. Backpacks and hitchhikers are emerging from their doors, until late in the night. Sometimes they arrive from the left, sometimes from the right and sometimes from both directions at the same time.
And finally everybody reached: 130 hitchhikers from all over Europe (and Uruguay) – alive & well, full of hippie- and happiness! Two weeks and a few thousand kilometers earlier we had started from Breda, Eisenach, Flensburg, Hamburg and Mainz to head towards Poland's famous region full of lakes. While on the road, a ton of things happened yet again and the one universal reflection we can come up with is this: You are the awesomest, most kaput and loveliest nut cases that one can amass in one place!
Survey: As every year, we'd like to gather your thoughts on what was nice as well as what part of the race you did not like. Please give us 5 minutes of your busy lives and tell us your honest opinion (Link to the survey is listed in our latest newsletter).
16230 Euros for the WASH-Project in India and Nepal !
The final number is 1623 thumbs! All participants together collected 16230 Euros for our charity partner Viva con Agua de Sankt Pauli e.V.! The money will be forwarded to the current WASH-Project of the German Welthungerhilfe in India & Nepal.
Yet another awesome job by you! Thanks to every participant and donor for this many thumbs up! Every single Euro will help to improve the sanitary situation in both countries. 2.4 billion people (!) worldwide do not have adequate access to sanitary facilities. Even more important that monetary donations: Every time this fact is mentioned in conversation helps as well. The times in which the product of your metabolism (colloquially: the shit) should be flushed and forgotten are over! Sanitation matters! #WeGiveAShit
Daring to look into the future: Tramprennen 2014 – the seventh year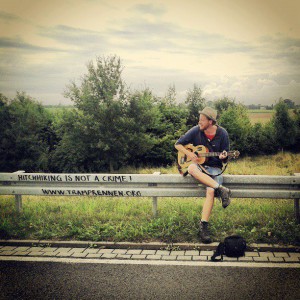 What's the future of Tramprennen?
One thing's for sure: We will be back next summer!
Likely with a few changes and novelties, though. Aside the annual main event, a good number of secondary projects have established themselves in the past: The easter action and the magazine, for instance. Also, we are looking at a board game, a permanent live ticker and a few other ideas. Creativity knows no boundaries…
What we really want to say is this: Be a part of it! Get involved in Tramprennen!
Let's inform even more people about the most fun way of traveling. We are planning a large meet-up with all hitchhikers before the end of this year to develop and reform the current projects and also kick-off new ones. Further information well follow in a separate mail soon.
For those who can't wait: Feel free to contact us already (gro.nennerpmartnull@ofni) and/or have a look at this PDF from January 2013.
Finally we'd like to say Thanks to everybody who supported Tramprennen 2013, in whatever way, shape or form! The list of small and large contribution is sheer endless, which is why we don't want to make an explicit list. Please feel addressed!
We can't wait for the future!
Hauke, Pille, Marco, Ole, Simone, Malte, Hack, Wuddich & Pascal
https://tramprennen.org/wp-content/uploads/2014/05/logo3.png
0
0
Pille
https://tramprennen.org/wp-content/uploads/2014/05/logo3.png
Pille
2013-09-15 16:26:38
2020-03-29 15:10:19
Tramprennen 2013 – final words