Today we present the last text of our advent calendar 2016. Big thanks to everybody who contributed with their own story to this project and special thanks to Hannes, Simona, Franzi and Felix for the translations and to Gero for the pictures!
As usual the best part comes last: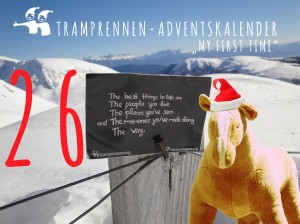 #26: Tim
Route: West Berlin – Münster (Westfalen)
Date: Late summer of 1989
Turning point: 1989. After a week in West Berlin, Heidrun, my girlfriend at the time, and I decided to turn the night into day one last time in Kreuzberg. The next day, we woke up from a coma-like sleep at half past one in the afternoon. To my horror, I realized that our car-share ride from Witthenbergplatz to Münster already had taken off about an hour ago.
There were no mobile phones yet and my friend Sven didn't have a telephone connection installed in his apartment. And besides all of that, turns out that last night someone broke into the apartment and stole my camera and a stash of money. When the police officers came, they laughed as they saw the lock of the door, saying (in a typical Berliner accent): "Dit mach ick dir inne Sekunde uff." (meaning: "I'd unlock that in a split second.")
I was only left with 20 Mark (which wasn't enough for a train ticket to Westfalen). And I was expected to be there by evening for a gig with my band "The Subway Surfers".
So, off we go by "S-Bahn" to the Wannsee since there's a hitchhiking spot nearby. In the train, I noticed that it's a sunny September-day. Meanwhile, it was almost three o' clock. In about 6 hours I had to be in Münster, on stage. 475km. I was aware that the only chance I had of getting there on time was if my girlfriend and I got a lift directly to Münster. As we walked towards the hitchhiking spot, the service station Dreilinden, I recognized through the trees its red and brown façades but also something else: At the legendary hitchhiking spot going west, were standing at least 200 people sticking out their thumbs in the air.
A hippie couple already spread out a blanket on the roadside and had a picnic. They stuck a sign on their basket saying: "BEL". As we arrived two girls with dreadlocks just jumped into a truck. Most hitchhikers apparently wanted to get to Hannover, Göttingen or Hamburg.
Obviously, there weren't any who wanted to get directly to Münster. All shyly, we went up to the street.  All the other hitchhikers seemed to be in pretty exuberant mood. In those days many cars that were leaving the city, approached the rest stop just before passing through checkpoint Bravo for looking for passengers. This Friday it wasn't very different. The cars passed by very slowly, examined the signs and beckoned the people if the direction was right.
My girlfriend and I no sooner got to the spot in this very moment than a couple got picked up by a Mercedes. As soon as they got on board to that white-haired banker guy, he stepped on the gas and left all the other hitchhikers applauding sarcastically in dust. Right behind the Mercedes there was a ruby VW Passat rolling to us. Year of completion: Late seventies. I didn't believe my eyes, it had a license plate number from Münster. Hectically I grabbed my girlfriend, who stretched out a sign with the letters "MS" on it just in front of the windshield. The black-haired guy in the car pointed to us with his finger: "You want to go to Münster, well, jump in."
When I took my place on the passenger seat, a woman – type: teacher of social studies – yanked the door open. "Ey, assholes, I've been standing here since 3 hours. And you arrive here and just jump into the first car."
The driver kept calm: "Girly, where do you want to go?" – "Hannover-Allertal"- "So, jump in, there is still place of a gallon."
While thinking about how to express a gallon in cubic meters, we left. It was half past three. If we would make good time, we should have been in Münster around nine and the concert could have started on time.
When we left the rest stop I read a graffiti sprayed at the bridge, where you could read in big letters: "You are leaving the American sector". Right behind it a Russian tank from world war times greeted just at the zone border.
On this Friday evening there was bustling traffic like always. Already 300 m before handing in our passports we got off the car, the driver loosened the hand brake and we pushed the car to the toll control.
Just no antics now, hence the GDR-authority let us pass.
While the frontiersman collected the passports, his colleage beckoned us. All of the  tollkeepers were speaking in Saxon accent. Why were we never confronted with personal from Berlin or Brandenburg? With lances at which ends some mirrors were fixed they inspected the underside of the car. After examining the packed trunk we were allowed to carry on. We picked up our passports 200 m further and reached the transit route.
The majority of the way our driver dashed with 190 something on the holey street. Here and there he braked unexpectedly and slowed down to the mandatory speed limit and was beckoning. Obviously, he drove this route more often and knew the places, where the DDR police built up its radas speed checks. Indeed very often there were nice little Wartburg cars standing on small hills right behind the embankment and two gentleman wearing uniform hats observed the flashed by traffic.
We listened to the sound of Bob Dylans LP classic "Highway 61 Revisted". When "Like a rolling stone" started for the third time, I looked back to the Passat's back seat, where my girlfriend caught up her sleep deficit from last night and snoozed shoulder to shoulder with the "Alltertal" broad. The sun was low and showed us our way. I did the same like our driver and clapped down the sun shield and thought about the fact, that happiness is no feeling that you can cage to your heart and let it free once if required.
You have to feel happiness, when it happens.
And in this moment I was very happy. Because I felt young – which doesn't happen very often in my life – apparently, because I was it in these days. And I felt light, because we were travelling, 4 people united by coincidence, we were on a journey with different destinations. People, that would never travel together again in their life, travelling in an unfree country on the high speed of freedom.
I made myself comfortable in the ruby Passat's grubby seat. In the evening I would play Rock'nRoll with my friends. And later I would kiss my girlfriend, whose name was Heidrun, but in my eyes was as beautiful as her name was Sophie or Angelina or something like that. The Passat purred. Dylan sang. In Allertal we said goodbye to the social science teacher girl and it was bathed in smooth colours by the sun.
When our drived dropped us off at Münster main station he shouted "See you…". Today everyone is saying this, but in these days I heard this for the first time. And I realized that you will always see each other again on the street … anyhow, anywhere, anytime.
When you get enthralled it's very hard to get loose of that good feeling of being on the road.
Now I am 47. I hitchhike very rarely. But, I still play Rock'n'Roll with my friends and I like to kiss my girlfriend. And when I get into the band bus and the door is closing behind me, when the music sounds from the radio and the sun is setting in western over the rolling past trees, I am thinking about how lucky I was back in time in Dreilinden.
And I am wondering, what the other passengers might do today?
https://tramprennen.org/wp-content/uploads/2014/05/logo3.png
0
0
Disko
https://tramprennen.org/wp-content/uploads/2014/05/logo3.png
Disko
2016-12-26 08:23:04
2016-12-25 12:20:22
TR-Advent Calendar #26