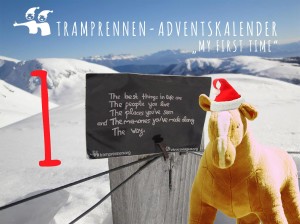 Ho,ho,ho- here we go! Christmas time is coming and before we hitchhike home for Christmas (haha…) we want to present you the first Advent calendar on tramprennen.org! Every day until Christmas (or even longer) we want to present one story about the first time we used the best way to travel: hitchhiking! Have fun with the stories! And you are more than welcome to add your own experience! Just send it to gro.nennerpmartnull@ofni! Whoop,Whoop!
#1 – Franzi
When I think about my first hitchhiking experience, I seriously wonder: Why am I still on the road!? Everything that could possibly go wrong went wrong!
Never, ever before had I stood beside the road with my thumb stretched out, waiting for someone (whom I don't know) to give me a lift. Means of transportation had always been the bus, the train, a friends or parents car – well, the usual stuff.
Although, I've always been tempted to give it a try… But cautionary and daunting comments (always by people who never did it, of course) about how dangerous that would be discouraged me to do it. After a long time of struggling the decision for summer 2015 was made:
Tramprennen – Here I come! Let's go to Albania, with a guy I haven't met before!
I could already hear my friends say: Are you insane? Did you at least attend some kind of a self-defense course? – I didn't even bother telling my family.
Let's get started – yaaay!
By drawing one of the routes we got the one named 'Schnatterinchen'. Our first task was to hitchhike all the way from Vienna to Osijek, a smaller town in the East of Croatia. "Shouldn't be that hard!"-I thought. Highly motivated I went to the hitchhiking spot with that guy, I got to know the previous day. I had never heard of Hitchwiki nor other nice little helpers and I had no map – so I was "perfectly" equipped. But no one could have stopped me and my optimism.
According to the others, there were two possibilities to get to Croatia: heading to Graz first or to Budapest. Not fully agreeing on everything we decided to just join the first person that would take us to the highway, regardless of the direction. In the end, the direction was Graz… after a whole hour of waiting. 600 km instead of 400 km? – Doesn't matter. It's going to be okay!
At the first gas station on the highway, we found a Polish guy that could have taken us quite a bit closer to our destination. The driver behind him obviously had something against that and crashed into our lift after only 10 meters. Damn! Should we get out and look for a new car or wait for the police? The driver preferred it if we left and to had gotten someone new, which we did after a short time of asking around.
So after some longer stops at Austria's beautiful highway gas stations we got stuck at about 6 pm with 5 other hitchhikers at a gas station a few kilometers before Maribor in Slovenia. No cars in sight, still hundreds of kilometers ahead of us and we were hungry – time to search for a place to sleep! Didn't reach the destination? Well, that happens. At least we weren't alone.
A nice Slovenian guy offered us to put up our tents in his garden and spend the night with a bunch of slugs. But he offered us some self-made wine! Hvala! J
Next morning: Motivated as f***! Let's rock the way to Osijek! The first setback awaited us at a gas station on the highway before Zagreb. After 2 hours of waiting the only guy who wanted to take usto the East planned to take off at 3 am.
"I got the blues"
// Why the hell are people even hitchhiking? What's so great about not seeing anything of the countryside? Or only getting to stay at annoying, smelly gas stations? Or more and more desperately asking for rides? Are you all nuts? I need some chocolate… //
A really nice bus driver that probably observed us for some time offered us a ride to the city center. "Everything is better than staying here," we thought and said yes to his offer. "Maybe some other possibilities will arise later…" To demonstrate that there are also nice Croatians he bought us some coffee and we had a little chit-chat.
Surprise! Getting out of the center of a bigger city by hitchhiking is as probable as … well, there is no reasonable comparison that comes to my mind right now. But it was hopeless. It was time to check the internet's omniscience. Here you are – Hitchwiki! A website solely about hitchhiking? Crazy! There was even a description of a spot, which should be perfect for getting from Zagreb to Osijek. They mentioned a waiting time of 10 minutes to get a lift. Perfect – Let's go!
Waiting time? Don't you dare! After several spot changes: traffic lights – gas station – traffic lights: the next blues kicked in. No one wanted or could pick us up.
Since it got darker and we were so desperate and didn't want to stay there, we decided to just walk the 10 kilometers to the toll station of the highway. Great idea. Until I found a driver and convinced him to take us to Slavonski Brod and to prevent him from falling asleep.
At the gas station before Slavonski Brod hitchhiking was over. Although we asked a lot of people if they can give us a ride during the night, it didn't make any difference. On the next day the others of our route would be already on their way to Serbia. So we told them we wouldn't make it but we'd meet them at the next destination. We tried to go to sleep, got a map (how clever!) and hoped for the best for the next day.
As we were told 2 weeks later on the lake side of Lake Shkodra, not reaching the destination on the second day at the first stage didn't happen to any other team in the Tramprennen's history.
But yup, still at the end we made it to Albania. We had the best time we could have ever thought of, with a bunch of great people and while visiting beautiful places.
And yup, I am still hitchhiking (whenever it's possible) because it is the most terrific way of traveling and being part of the lives of the people you meet along the way, if only just for a short period of time.
https://tramprennen.org/wp-content/uploads/2014/05/logo3.png
0
0
Disko
https://tramprennen.org/wp-content/uploads/2014/05/logo3.png
Disko
2016-12-01 16:32:17
2016-12-01 18:32:05
TR-Advent Calendar #1