A couple of days ago we received a letter from a 96 year old german pensioner.
He read in a Mainzer newspaper about the Tramprennen, which inspired him to write us something about the trips he has done back in the days.
Back in the days means: in the twenties and thirties of the last century. BÄM!!!
And guess what: they had a kind of tramprennen these days: Tramprennens ancestor! :)
But…read by yourself! (its german, cause the letter is in german. maybe we'll translate it later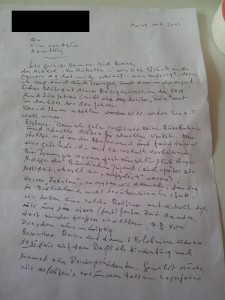 Sehr geehrte Damen und Herren,
der Artikel "Per Anhalter…" von Ute Strunk in der
Mainzer AZ hat mich sehr auf-, nein angeregt, denn
ich war einst auch Tramper, und zwar in der eigent-
lichen Blütezeit dieses Reisegenusses, in den 20er
und 30er Jahren (nicht die des Zweiten "Runs" erst
in den 60er bis 80er Jahren.
Was ich Ihnen erzählen will, werden Sie z.T.
wohl wissen.
Erstens: Damals gab es so gut wie keine Autobahnen
und schnelle Autos für schnellen Verkehr. Man
stellte sich an den Straßenrand und fand immer
eine gute Seele, die mit 80-100km/h vorbeikam.
Die Tramper waren fast ausschließlich Ange-
hörige der Bündischen Jugend (auch später zur
Nazizeit, obwohl sie "aufgelöst" waren).
Unsere "Fahrten", so sagten wir damals, fanden
in Deutschland, nicht darüberhinaus statt.
Wir hatten eine solche Routine entwickelt, daß
wir uns zu einer (fast) festen Zeit da oder
dort wiedertreffen wollten, z.B. von
Dresden aus in Leipzig.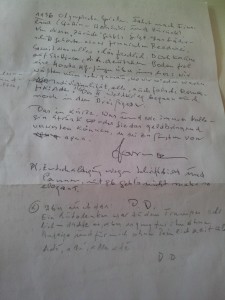 Besondere Reise- und damit Erlebnisse waren:
1935 (wir auf dem Darß) als Hindenburg noch
einmal zum Reichspräsidenten gewählt wurde.
Wir erlebten's vor unserem Zelt am Lagerfeuer.
1936 Olympische Spiele. Fahrt nach Finn-
land (Stettin-Helsinki und zurück).
Um dieses "zurück" geht's jetzt. Das Fähr-
schiff gehörte einer finnischen Reederei.
Soweit war alles schön und friedlich. Doch kaum
auf Stettiner, d.h. deutschem Boden fiel
eine Horde HJ-Jungen über uns her: wir
wußten nun sehr genau, wo wir wieder waren.
Kleine Freundschaften, Individualität, alle, auch falsche Roman-
tik: Adé! * Der II. Weltkrieg begann auch
noch in den Dreißigern.
Das in Kürze. Was und wie immer Kolle-
gin Strunk oder Sie das geldbringend
verwerten können, es sei zu Gunsten von
aqua.
Borremann
PS. Entschuldigung wegen Schriftbild und
Pannen, mit 96 geht's nicht mehr so
elegant.
D.D.
*Aber auch das:
Ein Autolenker war zu dem Tramper sehr
lieb – dachte er, aber es ging für ihn ohne
Anzeige und für mich ohne Peinlichkeit ab
Adé, adé, alles adé.
D.D
https://tramprennen.org/wp-content/uploads/2014/05/logo3.png
0
0
Malte
https://tramprennen.org/wp-content/uploads/2014/05/logo3.png
Malte
2013-07-25 16:29:01
2013-07-25 16:48:05
Oldschool: Hitchhiking.