WHERE ARE WE GOING 2014? #4 – Franconia
by Marleen
Already in 2011 the most beer-containing region of Germany – Oberfrangen! (Upper Franconia, pronounced in franconian dialect) – was one of the first stage destinations. In 2014 the starting point of the hitchhiking race will be Underfrangen (Under Franconia, p.i.f.d.). This part of Franconia already belongs to Wine-Franconia (also: Main-Franconia), because of its yummy grapes growing on green hills which are supposed to be filled up into characteristic, quite aesthetic bottles (called Bocksbeutel). The ones who follow these lines with attention already get it: Franconia consists of different parts: Upper-, Under-, Middle-Franconia, not to forget Heilbronn-Franconia and South-Thuringia. You don't necessarily need to remember all these facts, but one thing you should definitely recognize: Franconia is not Bavaria. I guess, nobody wants to be thrown out of his lift. By the way: Middle-Franconia also belongs to Beer-Franconia (Like Upper-Franconia).
Well, the most important facts about geography and culinary stuff has already been illustrated. Now what about hitchhiking in Franconia? Back to the year 2011… The route from Hamburg to Bayreuth is not a Kaffeefahrt (promotional trip mostly for retired persons often organized to rip these off). The A 7 is manageable like a coasting slide, without doubt. But after, you need to conquer the A 70, one of the most ambitious highways in Germany – like an asphalt desert lacking in gas oases. Here, loads of hitchhikers already fell by the wayside. "Rhön is dead", announces the live ticker this day several times. Franconian-experts we are, we already knew about this before. For this reason we already had chosen plan B, because good hitchhikers know: Being open for taking loop ways can bring you faster to your final destination. But despite our big expertise the route was a challenge for us as well. It happened, that we lost our mainway because of an unlucky coincidence. This meant for us in particular: Burger King-Gourmets, refueling mommies, gas station (but beside the highway). Despite our nonchalant behavior we can't make it back to the highway, but anyway, country roads are more beautiful, aren't they?Now the Franconian Switzerland. Being situated in the middle of the towns Bamberg, Bayreuth and Nürnberg it connects all the Uppers and Unders. The Franconian Switzerland is a very popular hiking-area which is stuffed with more than 100 small-breweries. Very fast hitchhikers have the possibility to stop for a bite to eat at one of the many franconian restaurants or wine-franconian Heckenwirtschaften (that's a typical wine-franconian thing). You can get a zünftigs Weizn (weiss beer, p.i.f.d.) or a fruity Schobbn (quarter-liter wine, p.i.f.d.), maybe accompanied by a Grupften (aromatic, mashed camembert, p.i.f.d.) and a Brezln (pretzel, everybody knows that!). Or: If you need meat so badly, just take a Schäuferle (shoulder of a pig, typical franconian meat dish) or some of the crispy Nembercher Bradwürschd (bratwurst, pronounced in middle-franconian dialect). To digest, you should think about hiking the Fünf-Seidla-Steig (some hiking trail in the southern Franconian Switzerland), where you walk from small brewery to small brewery, enjoying the nice landscape and the fresh, cold beer. (Seidla = Half-liter beer).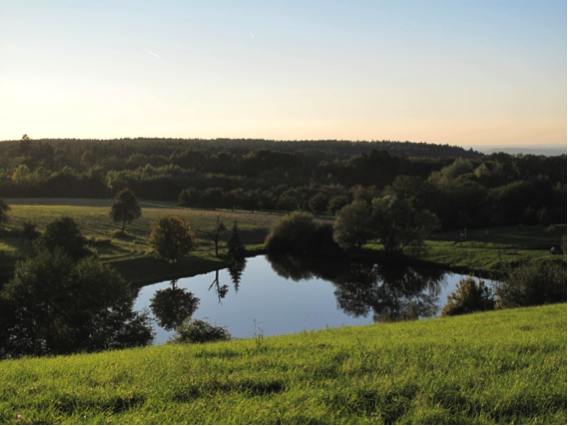 Beer-franconian landscape
Country air in the nose, sunbeams on the thumb. Next station: Somewhere in the franconian middle of nowhere. Yellow rapeseed fields surrounding us, idyllic calmness. Crickets chirring. Beautiful here. No cars to see, neither to hear nor to feel. The boys start to climb some street signs, they are obviously bored. We are quite relaxed, as a Three-Dream-Team you don't bow to competition feelings anyway and take your time to also know people and places on the road and rather consume some nice Italian espresso, but that's a new story.
After a while Stefan from Hollfeld is arriving, together with his daughter and his little son. The glanne Buam (small boy, p.i.f.d.) is quite talkative and babbles all the time into the grown-up-conversations. "Ich hab fei zwei Hosen an!" (By the way, I'm wearing two trousers!) he suddenly gabbles very proud. Everybody is quiet, also Stefan is surprised. Today the little mischief was allowed to be dressed by himself. By the way, fei is one of the most beautiful filler and flavor words within the franconian dialect you can use. Authentic application and use is very difficult for strangers. Stop the linguistic excursus now… It goes further, after all the competition feeling catches us. A message gets into the car: Die Ekstase der Möwe (the gull's ecstacy) is about arriving to Bayreuth. Also for us, it is not so far away anymore, excitement arises. Stefan gets infected by the competition atmosphere and we manage it to make him crazy about to really wanting us to bring some 24.7 km further to Bayreuth, directly to the final destination Glashaus. Shortly before the goal and honking with elegance, we are overtaking the Ekstase der Möwe, who were (unfortunately for them) by foot.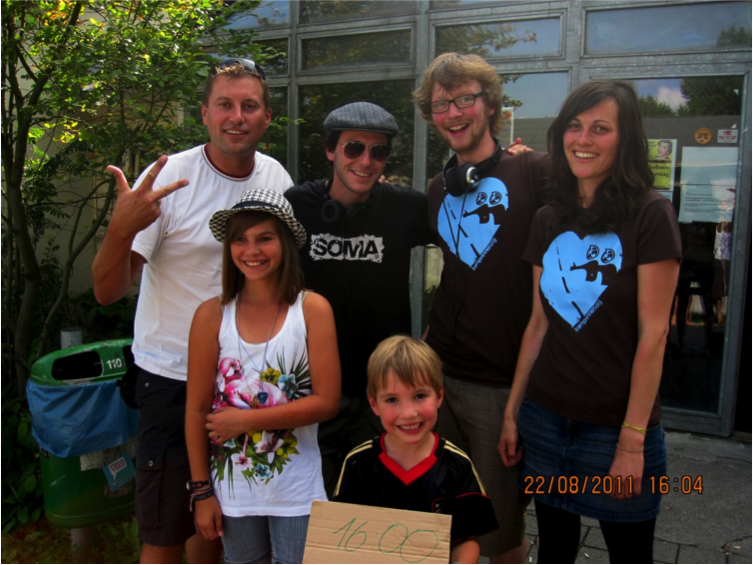 https://tramprennen.org/wp-content/uploads/2014/05/logo3.png
0
0
Walter
https://tramprennen.org/wp-content/uploads/2014/05/logo3.png
Walter
2014-07-24 10:59:57
2014-07-24 20:34:07
WHERE ARE WE GOING 2014? #4 – Franconia